We have a large number of aircraft being displayed at AusFly Narromine this year! Expect a display of many aircraft types demonstrating their capabilities – from the slowest to the fastest and most manoeuvrable – you will see them all.
We are aiming to have an impressive line-up of groups and solo aviators displaying RV, Lancair, Sonex and Pitts aircraft on the ground and in the air.
They will be conducting line astern fly-pasts, formation demonstrations, handling displays, slow-speed handling demonstrations and aerobatics!
You will also be able to get up and close with a number of the above aircraft on static display. The Sabre Jet, Cessna 150, Kingair, Nanchang, Zenith Zodiac, Gyrocopters and Helicoptors, just to name a few. Many owners and pilots will be available to explain more about their aircraft in show 'n' tell style presentations.
Aircraft availability is not always certain due to a number of factors which can include operations, weather or other unforeseen circumstances.
Air Display
– practice Friday 5pm
– main display Saturday 2pm
For the latest information on the air display see the Event Program.
* Provisional program:
Michael Jones
RV7
Andrew Temby
YAK 52
Aerobatic Display
Oz – Stol
Stol Circuits
Gary Weeks
Lancair Legacy
Handling Display
Don Gordon
Titan Mustang
Handling Display
Jock Folan
Aerobatics Bonanza
Aerobatic Display
Stooges
Van's RV6, RV6a, RV7 (x2) and RV7a
Formation Display
Screaming Diamonds
Pitts Specials (x 2)
Aerobatic Display
Ben Lappin

Gerard Lappin

Grant Piper

Brian Scoffell

Peter George

Decathlon

Aerobatic Cessna 150

Giles Unlimited Aerobatics

Spitfire Replica

YAK 52

Handling Display

Aerobatic Display

Aerobatic Display

Handling Display

Aerobatic Display
Lancair (5 types) and Van's RV (10 types) Fly-Bys
The main display on Saturday will we hope be followed by a very rare sight in Australia – there will be a fly by of 5 of the Lancair types including the turbine powered Evolution, and 10 Van's RV types from the RV4 to RV14.   Don't miss this!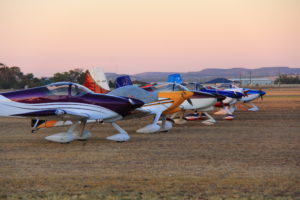 Meet some of the Pilots
We are pleased to advise that we have some amazing pilots that are a part of our air display this year.
Gary Weeks is the owner and builder of his VH-ZYA is a Lancair Legacy RG.  It is a two-seat high performance Carbon Fibre, quick build kit from Lancair.  The Lancair Legacy was the aeroplane that started the Sport Class at Reno. That is why you see lots of Legacy's in the Sport and Super Sport class at Reno. It has a new double tapper Greg Cole wing designed to improve low speed handling and still provide high speed cruise.
Gary's display will include a number of high-speed passes and a combination of gentle aerobatics.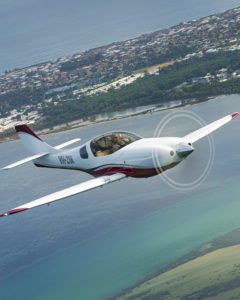 Don Gordon has just recently been featured in our Spring edition of AirSport and he is joining us as part of the flight display this year.  Gordon built his Titan Mustang in late 2015 and whilst he encountered a few challenges on the way, he completed the build in October 2018.  This magnificent machine is light and the controls smooth.  Don will be displaying a number of sequences for us.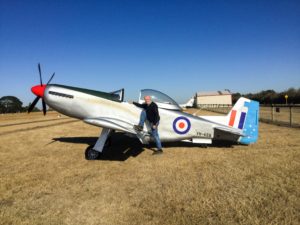 Michael Jones – Screaming Diamonds has been organising our air display with Adrian van der Sluys.  Of course, he is flying for us too!  Here is some information about Michaels plane:
Aircraft Vans RV-7
Powered by Lycoming io-360
First flown in September 2014
Built by Michael Jones taking 4.5 years
Michael completed this aircraft and received a C of A at the age of 27.
Michael first displayed this aircraft at AusFly in 2017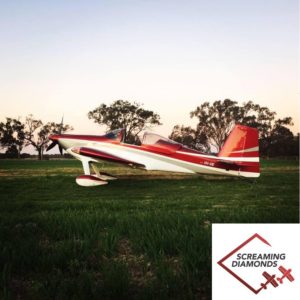 Grant Piper's aircraft is the prototype Giles G-200 which first flew in 1994 in the USA.     Richard Giles designed the aircraft to compete with six cylinders Unlimited aerobatic aircraft, but using only a four cylinder engine.   Structure is mostly pre-preg carbon fibre with nomex core.   Other cutting edge for the day design features are a reclined seating position and full span ailerons, the latter resulting in roll rates up to 500 degrees per second.
Grant imported the aircraft in 2006 as a project – it hadn't flown in over 10 years and was missing some parts.   Darren Barnfield signed tech aircraft out in 2007 and I've been playing catch-up ever since.
Grant's display will comprise of an Aresti Competition sequence followed by general aerobatics including basic gyroscopic manoeuvres showing some of the capabilities of the aircraft, 10 minutes approximately.
We are looking forward to seeing him fly.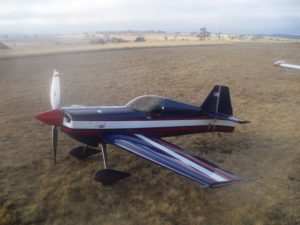 Jock Folan
Another of our awesome display pilots is Jock Folan.
Jock Folan served in the RAAF as an Airframe/Engine technician from 1975 to 1998. During the few years of his RAAF service he was responsible for Maintenance Requirements Determination (MRD) processes and training, a process modelled on current international practices. Since leaving the RAAF he has been involved in a number of Defence projects introducing new military aircraft types into Australia and the review and optimisation of maintenance policy for existing aircraft that may soon include the development of a 'Bonanza System of Maintenance' in conjunction with CASA . Aviation has been a primary interest for most of his life with a number of years gliding experience prior to 20 years skydiving where he represented Australia in the 1989 world championships. Jock started flying GA aircraft soon after leaving the RAAF and is a current VFR/IFR pilot, a keen aerobatic pilot who currently owns and operates JLF as an aerobatic and IFR capable aircraft. Louise Fergusson, Jocks partner currently owns a Super Petrel LS amphibian aircraft that they are planning to soon operate at their waterfront property in Nelson Bay NSW.
Bonanza aircraft have been in continuous production since 1947, JLF is one of only 179 aerobatic Bonanza's out of the 18,000+ Bonanza's built, of those there are only a handful of aerobatic Bonanza's remaining worldwide. There are 3 aerobatic capable Bonanza's in Australia, 1 E33C that is owned by Ben Morgan of AOPA, and one other F33C based in Canberra.
JLF is the first F33C built and was imported from the US by Jock in 2009 as a very stock aircraft will little to no aerobatic use. There were few changes to enable the certification of a Bonanza as aerobatic, the wings are the same as all other Bonanzas and T34 aircraft, the only structural modification are within the empennage, in particular the horizontal and vertical stabiliser spars and skins.
Soon after its arrival in Australia JLF started an upgrade path that included the interior, avionics and engine bay, the modifications are available for all certified Bonanza aircraft with most of the work being conducted by Southern Aircraft Services in West Sale. It has had one magneto replaced with an electronic ignition system from Electroair and an extractor exhaust system that came from D'Shannon Aviation in the US, in addition to a few minor modifications to improve cooling and reduce cooling drag it has had the I0-520 engine replaced with a hand built I0-550B engine built by Rudy's Aero Engines in West Sale. The aircraft is also fitted with airbrakes which are occasionally used to limit downward vertical lines and enable quicker descent profiles.
As an IFR aircraft JLF is very stable in pitch and it is therefore quite heavy when conducting pitch maneuvers during aerobatics, particularly when the speeds are up around 180-200kts.
JLF is not fitted with inverted fuel and oil systems and requires that aerobatics are conducted within a positive G envelope to ensure continuous fuel and oil flow for the engine so I generally do not do manoeuvres that require prolonged inverted or up and down lines, even the inverted hesitation rolls are made while maintaining positive G loading's.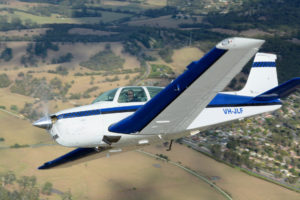 Andrew Temby
Andrew's dad was a WW@ pilot on Liberator Bombers.
When Andrew is not flying areobatics or flying the plane he built, he enjoys maintaining his aircraft.
Andrew competed in the Australian Grand Prix on 1989 and he says race cars or flying planes, planes rule!
Andrew has flown hundreds of display routines in his YAK 52 TW.  The YAK is powered by a Vedneyev M14 P 9 cylinder supercharged radial engine.  The engine is the most powerful Areobatic engine in the world.  The engine has an oil system anf fuel system that can work when the plane is on any angle.
The Yak was designed as a soviet military and sport areobatic aircraft.  This aircraft is appropriately displayed doing smooth graceful areobatics.  The engine can use up to 170 litres per hour of fuel when on full throttle.
This display is going to be phenomenal.